One of the important steps to forming a 501c3 nonprofit organization is the drafting of its bylaws. If you are new to the nonprofit world, the concept of bylaws may leave you with a question. Or many questions. Here at Nonprofit Elite, we specialize in answering these questions and assist in drafting these bylaws to meet your organization's needs.
So, what exactly are bylaws and why are they important? Let's go over this important step.
What Are Bylaws?
First, let's look at what the bylaws are. A bylaw is defined as a rule made by a company or society to control the actions of its members. This isn't nearly as totalitarian as it sounds. Simply put, a nonprofit's bylaws are the governing document that establishes how the Board of Directors will operate. These bylaws should also be tailored towards the overall goal and mission of the nonprofit organization as a whole.
If you are familiar with the business world and the concept of a policy and procedures handbook, stop. Policy and procedure may sound like it's the same as an organization's bylaws, but they are very different. For example, policy and procedure will lay out some basic yet important aspects like an employee using vacation or sick time. A nonprofit's bylaws are not for routine, day-to-day operations.
It's also fine to stick to the basics. For a smaller nonprofit organization, your bylaws probably don't have to get super complex. Here are some of the common questions that the bylaws should address:
How is a Board member removed?

When should the Board meet? How often?

When should the bylaws be reviewed?

How long should Board members serve?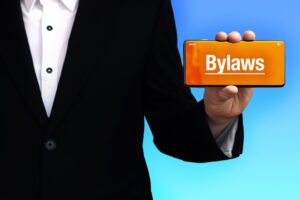 Who Makes The Bylaws For A 501c3 Nonprofit?
When it comes to drafting the bylaws, the Board of Directors are the ones responsible. Other than changes later on, the original bylaws are created by the original founding Board. Of course, this does not prohibit the Board from finding a professional consultant like Nonprofit Elite to assist them.
In fact, it's generally recommended to seek assistance when drafting your bylaws. Nonprofit Elite has helped numerous organizations draft their bylaws in accordance with their overall mission as well as all federal and State laws. Our specialized knowledge in the world of nonprofits allows us to provide a streamlined process to nonprofits while still tailoring to individual needs.
Why Nonprofit Bylaws Are So Important
At Nonprofit Elite, we cannot stress enough how important your nonprofit's bylaws are. Bylaws are not a write and forget type of document. Bylaws can also undergo amendments as well as be added or removed. But most importantly: a nonprofit's bylaws are a legally binding document. This means that failure of a Board member to follow their own nonprofits bylaws can result in legal action.
Nonprofit organizations also cannot put anything they want in the bylaws for the purpose of operating in any manner they choose. There are numerous federal laws that serve as governance over bylaws. Additionally, each State will have its own laws and regulations when it comes to bylaws.
Professional Nonprofit Bylaw Consulting In Fort Worth
Properly drafting your nonprofit organization's bylaws is not the easiest task. It may sound easy, but for those who are inexperienced with the requirements and necessities may find themselves frustrated. Nonprofit Elite has helped hundreds of nonprofit organizations achieve their goal of obtaining the official 501c3 tax exempt status. One way that we help with this process is through the creation of the organization's bylaws. Thanks to our decades of experience and knowledge, we know just how important those bylaws are for the future of your nonprofit. If you want the best consulting and assistance in forming your nonprofit, contact us today.